The Bridge Blog
A dialog about our new bridge and these web pages
Overview. As a pointy-headed university professor, my weekend project of bridge photography and building these web pages generated many questions and introduced me to just-in-time learning. I enjoy chasing my curiosity and want to identify ways to encourage younger learners to also enjoy curiosity chasing and learning.
Learning usually requires repetition while forgetting occurs when I infrequently use information. Many young learners do not understand the importance of repetition. Weekly visits to the bridge provided the repetition necessary to detect changes in the bridge and consequently generated many questions and opportunities for learning. Over the course of the bridge project, I had access to few experts for answering questions. Rather than a liability, this became an asset and pushed me to improve my search skills with Google. Soon, I found that answers to questions encountered during my weekly photo shoots were often only a Google-search away - (see Restoring the Joy in Learning). Consequently Google + Internet became dependable extensions of my memory.
The bridge story is a work in progress and is evolving from a simple collections of photographs to an experiment with Internet-centric just-in-time learning. Insights I gain from you will find their way into the learning centers of MUSC. Palmetto Bridge Constructors, a joint venture between Tidewater Skanska and Flatiron Constructors, as well as High Steel Structures, Freyssinet, the SCDOT and the Federal Highway Commission Office of Bridge Technology guided much of my learning. I also learn from many of you and from Google-linked resources. More important is the e-mail encouragement I receive from many of you.
Tue, 01 Mar 2005
March 1, 2005: A Dinosaur story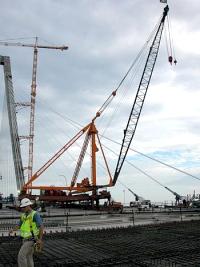 During the growth of the deck, there were 4 cranes, one located at each end of each deck. Philip Cotter named one of them "Last Dinosaur Standing" and I have a few photos of this animal. I was told that each crane was an antique - over 100 years old. I've not been able to confirm this, but perhaps it is correct. If so, then these cranes have seen many projects and I can imagine the stories they have to tell. I have assembled a few photos of the Last Dinosaur Standing and placed them near the end of the close-up page. Perhaps someone knows more about these creatures? If yes - don't keep it a secret.
Many of you have discovered this page - an exploration of using a blog (webLog) to express some of the content of these pages. I discovered blogs from my IT Lab brain trust - a group of the greatest and friendliest guys at MUSC. I was reluctant to engage this new tool - but as the bridge web site spun out of control, some sort of organization was necessary. This blog is a test of whether I can maintain some sort of links with photos that are posted to different sections of the site and maintain a 1-way dialog with all of you.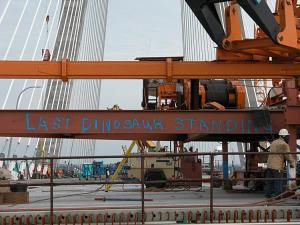 If you have not encountered blogs - it is the tool that is transforming web resources from read-only to read-write. Blog tools permit individuals to post thoughts and observations to the web without the geek-skills necessary to manage a web site. This morning I ran across an article that addesses Blogs in education. The thoughts parallel my thoughts about Internet-centric learning (see also Restoring the joy of learning ) and the evolution of the bridge web site - as a learning tool. I suggest you check it out and share your impressions with me and your friends.


posted at: 09:55 | path: | permanent link to this entry