The Bridge Blog
A dialog about our new bridge and these web pages
Overview. As a pointy-headed university professor, my weekend project of bridge photography and building these web pages generated many questions and introduced me to just-in-time learning. I enjoy chasing my curiosity and want to identify ways to encourage younger learners to also enjoy curiosity chasing and learning.
Learning usually requires repetition while forgetting occurs when I infrequently use information. Many young learners do not understand the importance of repetition. Weekly visits to the bridge provided the repetition necessary to detect changes in the bridge and consequently generated many questions and opportunities for learning. Over the course of the bridge project, I had access to few experts for answering questions. Rather than a liability, this became an asset and pushed me to improve my search skills with Google. Soon, I found that answers to questions encountered during my weekly photo shoots were often only a Google-search away - (see Restoring the Joy in Learning). Consequently Google + Internet became dependable extensions of my memory.
The bridge story is a work in progress and is evolving from a simple collections of photographs to an experiment with Internet-centric just-in-time learning. Insights I gain from you will find their way into the learning centers of MUSC. Palmetto Bridge Constructors, a joint venture between Tidewater Skanska and Flatiron Constructors, as well as High Steel Structures, Freyssinet, the SCDOT and the Federal Highway Commission Office of Bridge Technology guided much of my learning. I also learn from many of you and from Google-linked resources. More important is the e-mail encouragement I receive from many of you.
Wed, 09 Mar 2005
March 9, 2005: Making ends meet (my wife wishes she could use hydraulic jacks and fork lifts to deal with family budget issues).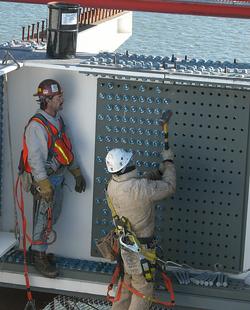 Closing the last gap (maybe last gasp?). Yesterday PBC and their iron workers closed the final gap linking the west and east decks. Peo and his team coaxed the two platforms into perfect alignment so that the splice plate could be pinned and bolted. Shown here is driving the first drift pin into the vertical splice plate linking the center edge girder with the south 216 edge girder.
It was windy - really very windy. I discovered that the virtue of an 8 lane wide roadway is that when the wind blows your glasses - it takes a long time to cover the width of the road and disappear. Fortunately I quickly retrieved them. But in spite of the wind, the work continued.
I soon discovered some of the tricks these guys use to encourage the two decks to behave and align themselves. Two major tools:
Altering the horizontal alignment with hydraulic jacks (located at the pylon).
Altering the vertical alignment with counterweights. In this case, the counterweights were mobile - consisting of fork lifts that moved toward or away from the gap, with or without counterweights.
I would not have thought changing the alignment a few inches would be so involved - and yet relatively straight forward. It was a joy to watch this team do their magic!. Today they are completing bolting up the vertical splice plates and horizontal splice plates.
posted at: 10:00 | path:
|
permanent link to this entry