The Bridge Blog
A dialog about our new bridge and these web pages
Overview. As a pointy-headed university professor, my weekend project of bridge photography and building these web pages generated many questions and introduced me to just-in-time learning. I enjoy chasing my curiosity and want to identify ways to encourage younger learners to also enjoy curiosity chasing and learning.
Learning usually requires repetition while forgetting occurs when I infrequently use information. Many young learners do not understand the importance of repetition. Weekly visits to the bridge provided the repetition necessary to detect changes in the bridge and consequently generated many questions and opportunities for learning. Over the course of the bridge project, I had access to few experts for answering questions. Rather than a liability, this became an asset and pushed me to improve my search skills with Google. Soon, I found that answers to questions encountered during my weekly photo shoots were often only a Google-search away - (see Restoring the Joy in Learning). Consequently Google + Internet became dependable extensions of my memory.
The bridge story is a work in progress and is evolving from a simple collections of photographs to an experiment with Internet-centric just-in-time learning. Insights I gain from you will find their way into the learning centers of MUSC. Palmetto Bridge Constructors, a joint venture between Tidewater Skanska and Flatiron Constructors, as well as High Steel Structures, Freyssinet, the SCDOT and the Federal Highway Commission Office of Bridge Technology guided much of my learning. I also learn from many of you and from Google-linked resources. More important is the e-mail encouragement I receive from many of you.
Mon, 16 May 2005
May 16, 2005: Pylon airflow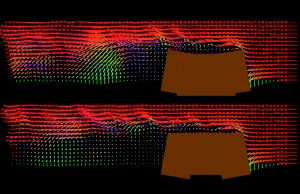 Sometimes you never know when your past will catch up with you. When I first came to MUSC, our outsourced IT support folks could not execute within my frame of reference - Internet-centric learning. So I formed the Information Technology Laboratory, aptly named the IT Lab by Nafees BinZafar, one of my first. The IT Lab was set up to give me the freedom to execute within the web world and I can honestly say that I have learned more from them than they from me. I simply ignited their curiosity fuse and then got out of their way. One of the few rules in the IT Lab was that you cannot resign - only graduate.
Nafees and Nathan are two of my graduates that now work for Digital Domain - doing systems and animation infrastructure - and they continue to contribute back to our IT Lab. Today Nafees wrote and confessed of being confused by the design of the tops of the east and west pylons. Being a well trained graduate of my IT Lab, he did a simulation to explore two different alternatives. In his words

Hi Frank.  I've been looking at your cooper river bridge pictures.  
And I wondered why the tops of the towers were indented, and not flat.  
I guessed it had to be for aerodynamic reasons, but I couldn't find anything 
on the web about the exact reasons.  So I ran a simulation.  I couldn't 
find the exact dimensions for the tops, so I eyeballed it from your 
pictures.  For comparison I modelled a tower with a flat top.  
I suppose I should have done one with a pointed top also.

I'm attaching movies of the top view and the side view of the simulations.  
The wind is blowing in at about 22 mph.  The massless tracer smoke is 
generated by 2 sources; 1 on top, and 1 on the leeward side.  The sims 
didn't really show anything numerically conclusive.  My simulation 
resolution is much too low for that.  The vortex shedding frequency seems 
a little bit higher in the "flat-top" configuration, and downstream 
the flow is more turbulent.  Also, there is a very substantial pressure 
drop in the indented region.  So I suspect that you will have some 
really good photo-ops of condensation trails on a cold and windy day. 

Here are the two videos (avi and mpg format). As with any collaborative effort, there are issues. In this case, the avi or mpg files may require some care when displaying. We are exploring alternative formats.
posted at: 14:23 | path:
|
permanent link to this entry