The Bridge Blog
A dialog about our new bridge and these web pages
Overview. As a pointy-headed university professor, my weekend project of bridge photography and building these web pages generated many questions and introduced me to just-in-time learning. I enjoy chasing my curiosity and want to identify ways to encourage younger learners to also enjoy curiosity chasing and learning.
Learning usually requires repetition while forgetting occurs when I infrequently use information. Many young learners do not understand the importance of repetition. Weekly visits to the bridge provided the repetition necessary to detect changes in the bridge and consequently generated many questions and opportunities for learning. Over the course of the bridge project, I had access to few experts for answering questions. Rather than a liability, this became an asset and pushed me to improve my search skills with Google. Soon, I found that answers to questions encountered during my weekly photo shoots were often only a Google-search away - (see Restoring the Joy in Learning). Consequently Google + Internet became dependable extensions of my memory.
The bridge story is a work in progress and is evolving from a simple collections of photographs to an experiment with Internet-centric just-in-time learning. Insights I gain from you will find their way into the learning centers of MUSC. Palmetto Bridge Constructors, a joint venture between Tidewater Skanska and Flatiron Constructors, as well as High Steel Structures, Freyssinet, the SCDOT and the Federal Highway Commission Office of Bridge Technology guided much of my learning. I also learn from many of you and from Google-linked resources. More important is the e-mail encouragement I receive from many of you.
Wed, 22 Jun 2005
June 22, 2005: About these web pages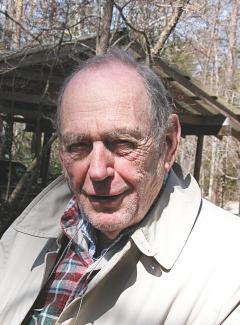 On June 12, 2005,
Gene Stead
, 97 years of age, quietly died. Gene was Chairman of Medicine at Duke from 1947 - 1967 and was my first boss. But he was more than a chairman. He paid great attention to individuals, whether faculty, students or patients, and worked at enabling them to reach beyond their grasp. He understood that problems could rarely be solved by technology alone and demonstrated over and over again that success often rides on resolving personal and cultural issues.
Several years ago, my son, Josh, and I visited Gene for the weekend. Gene was frustrated by the difficulties in maintaining communication with younger people. We talked about the Internet, about Google, about what to learn and how to avoid the forgetting curve. We shared our frustration that many younger people have lost their curiosity and wrote a short paper about restoring the joy in learning and about learning and forgetting. I built his web site as a tool for exploring Internet-centric learning and addressing issues of curiosity and forgetting. These pages about the building of the new Cooper River Bridge (Ravenel bridge) reflect a continuation of our explorations in learning, sharing and igniting curiosity among young learners.
posted at: 08:25 | path:
|
permanent link to this entry